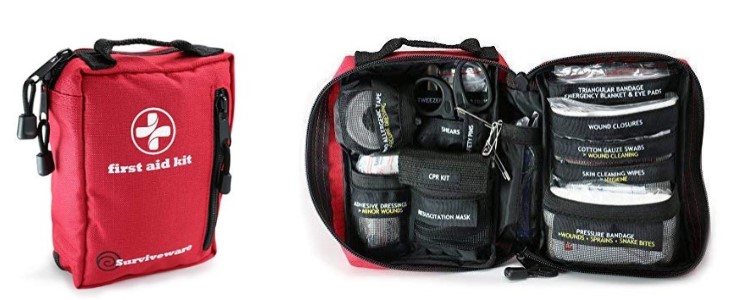 Best First Aid Kits for Soccer Players
During soccer practices and tournaments, injuries can happen in a second.
Every soccer player falls in some common injury during training or play. So to treat minor injuries instantly, every player should have a first aid kit.
There are plenty of soccer first aid kits in the market which are equipped with all essential items. However, not all of them are best to tackle an emergency. So, you need to research properly to find out a well-equipped first aid kit that can be used during an emergency.
Our research team has spent countless hours to find out best first aid kits for soccer. Surely this article will save your time for finding the best soccer first aid kit.
Top 7 Best Soccer First Aid Kits of 2020
---
1. Swiss Safe 2-in-1
If you want a well-equipped soccer first aid kit at a reasonable price, Swiss Safe 2-in-1 First Aid Kit is a great option. After many research, we found that the quality of the Swiss Safe Kit is extremely well. It contains all the essential items you need. It has 152 Pieces medical grade life-saving items. They avoid unnecessary cheap medical items which other companies use to increase quantity. It's FDA approved.
This first aid kit is very small but well organized. It's only 9 inches wide, 6 inches tall and 3 inches deep. Also, it's weight is only 1.2 pounds. It's made with water and heat-resistant materials. There is enough room to add extra items if you need.
You can use it anywhere you want. It comes with a free guide book, where you will get all necessary information to tackle any emergency situation. Every item of this kit has an expiration date. Try to replace it with a new one every 3 years.
Name of This First Aid Kit Items:
Antiseptic Wipes, 15 cm Metal Scissor, Sewing Kit, Gauze Pad, Alcohol Prep Pad, PVC Gloves, Sting Relief Pad, Medium Bandages, Mini Bandages, Fingertip Bandages, Triangular Bandages, Mini Finger Bandage, Butterfly Bandages, Knuckle Bandages, First Aid Tape, Cotton Tips, Safety Pins, CPR Mask, Disposable Ice Pack, Emergency Mylar Blanket, Moleskin Blister Relief, Trauma Pad, Whistle, Glow Stick, Compass Tweezers & another tiny first aid kit (with 32 essential items).
2. Surviveware Small First Aid Kit
The Surviveware First Aid Kit has all you need to treat emergencies in soccer fields. It's small and light (weight 1 pound). This kit easily fits into a soccer bag or backpack. It comes with 100 essential medical grade items. Everything is categorized nicely, so it's easy to find items when need. There is some little space available, which allow you to add your own items. This small First Aid Kit is FDA approved which ensure all items of this kit is safe for us.
The bag itself is strong, highly durable and water resistant. It made from high-quality fabric. The dimension of the bag is 5.5" x 7.5" x 3.5". It has a carry handle and a couple of loops. You can easily attach it with your belt, backpack, other bags, bike etc.
It's a versatile kit and can be used just about anywhere. They offer a free guide book with full of essential tips. This tips will help you to handle any difficult situation wisely. Definitely, you will be happy with this first aid kit.
Name of all items of this kit:
High-quality polyester bag, Shear, Antiseptic Wipes, Alcohol Wipes, Butterfly Closures, Standard Bandages, Large Bandages, Mini Bandages, Butterfly Bandages, Square Shape Bandages, H-Shape Bandages, Cotton Swabs, Cotton Gauze Swab, Emergency Blanket, Crepe Bandage, PBT Conforming Bandage, CPR Breathing Mask, CPR Pouch, Eye Pads, Personal Medicine Mini Bags, Personal Medicine Laminate Bag, Nitrile Gloves, Hypoallergenic Tape, Sting Relief Wipes, Triangular Bandage, Whistle, Safety Pins, Strip Wound Closures, Tweezer, Splinter Probes & Basic Tourniquet.
3. Protect Life First Aid Kit
This kit is exactly what a soccer player needs during an emergency. It's a complete first aid kit. It has 150 pcs high-quality first aid items. All items are nicely secured and well organized. It's small (dimensions: 8.3" x 5.9" x 2.4"), lightweight (1 pound) and water resistant. Easily fits in a soccer backpack. Made with durable materials. You can set it anywhere you want. FDA approved. Reasonable price.
There is plenty of space for adding additional first aid items. It has a nice handle for easy carry. You can use it everywhere in a variety of situations. Also, It comes with a nice instructions book, where you will get many tips to handle an emergency situation. Every soccer player should buy this kit!
Highly recommend for sports, travel, Home, school, office, Restaurant, workplace, Car, Bike, Camping & boating.
Inside Items:
Alcohol prep pads, Antiseptic cleansing wipes, Butterfly closure strips, Adhesive bandages, Fingertip adhesive bandages, Knuckle adhesive bandages, Extra large adhesive bandages, Triangular bandage, PBT conforming bandage, Elbow/knee bandages, Gauze swabs, First aid tape, Disposable cold compress, Abdominal pad, Cotton tipped applicators, Moleskin blister relief, Disposable raincoat, Glow stick, Emergency blanket, Slim rescue howler whistle, Scissors and Metal tweezers, CPR face mask, Button Compass Liquid filled, Eye pads, Non-adherent pad, Sting relief pads, Safety pins, Adhesive wound dressing.
4. Military Uniforms All-Purpose First aid kit
Next, we have the All-Purpose first aid kit from MILITARY UNIFORMS. It has everything needed for the primary treatment. Ideal first aid kit for the soccer. It has 156 medical grade first aid items. Everything is of good quality. It is perfectly organized and has extra space to add more medical items if you need. Build in FDA approved facility. So, no doubt about its quality. For a limited time, this bag comes with a free 34pieces mini kit.
This first aid kit is small enough (dimension: 9.1" X 6" X 3.5") and lightweight (1.3 pounds). So, you can carry the mini bag easily. It made with good quality materials. Highly durable and water-resistant. Also, it has a durable carry handle for hassle free carry.
Suitable for Sports, Travel, Home, School, Workplace, Car, Boat, Bike, Camping etc. It comes with a free book, where you get primary treatment guidelines for common injuries. Best first aid kit for the price.
This kit contains antiseptic cleansing wipes, alcohol prep pad, different types of bandages, sterile gauze pad, disposable cold compress, first aid tape, cotton tip applicator, trauma pad, disposable PVC gloves, moleskin blister relief, compass, triangular bandages, whistle, emergency blanket, scissors, elastic bandage, CPR mask, metal tweezers, sewing kit, safety pins, sting relief pads, Butterful adhesive bandage, glow stick, tourniquet, first aid kit & black carabiner.
5. 321 Piece Premium First Aid Kit box by M2 BASICS
An essential item for every soccer player. It has everything you need. It will keep you ready for any unexpected soccer injury. This kit has 321 pieces of medical grade items. All equipment of this kit are fine. The box is well decorated for easy access. It's bigger than other first aid kits. There is plenty of space for adding extra medical items and medicine if you need. It will meet your expectation. FDA approves this first aid kit. So, this kit is safe to use.
This premium first aid kit is suitable for soccer, sports, Home, workplace, office, college, travel, vehicle, outdoor, military, daycare and many more. You will receive an essential guide book where you will get many exclusive tips on primary treatment of most common injuries. They offer a 5-year limited warranty.
This premium first aid kit contains different types of bandages, Alcohol Wipes, Alcohol-Free Wound Cleansing Wipes, Povidone Iodine Wipes, Metal Scissors, Medical Tape, Medical Face Mask, Metal Tweezers, Latex-Free Gloves, CPR Face Mask, Instant Cold Compress, Antiseptic Towelettes, Safety Pins, Tongue Depressors, Tourniquet, Cotton Tip Applicators, different size Sterile Gauze Sponge, Large eye pad, Medical Tape Roll, Abdominal Trauma Pad, Emergency Blanket & First Aid Guide Book.
6. SHBC Compact First Aid Kit
If you are looking for an inexpensive and small first aid kit to carry with your soccer backpack during training or a match, You can consider this one. You will get all the emergency items for first aid inside of this case. All are nicely organized and high-quality products. It has 228 pieces of first aid stuff. All are manufactured in FDA approved manufacturing facility.
This semi-hard case is small enough (dimensions: 8.3" X 6.3" X 3.2") and lightweight (1.8 pounds). You can easily carry this case with you wherever you go to play or practice. The inner part of the case is made from EVA materials and the outer surface is made from PU materials, which make the case water-resistant and highly durable.
They add more emergency items than regular first aid kits so that you can provide primary treatment to more peoples. Ideal for Sports & Outdoors, Home, School, College, Restaurants, Daycare, Travel, Vehicle, Camping, Boating & Hiking. Great tool to tackle any emergency. You will love it.
The SHBC Compact First Aid Kit contains Different types of bandages, Silicon tourniquet, Different size sterile gauze swab, Adhesive wound dressing, Disposable CPR mask, Emergency foil blanket, Vinyl gloves, Alcohol swab, Cotton swab, Sterile eye pads, Povidone iodine, safety pins, adhesive tape, whistle, scissors, tweezers, saber cards and a free guide book.
7. General Medi First Aid Kit
Excellent basic first aid kit. Ideal for both soccer and regular use. It has everything for an emergency. This kit contains 160 pieces of medical grade stuff. All are high-quality products. Everything inside of the bag are well organized by category, So it's easy to find out any item during times of need. This FDA-approved kit still has additional space to add more medical items when necessary.
This bag is small (7.8" X 6.3" X 3.1"), light (1.1 pounds) and made from premium materials. So it's strong, highly durable, water-resistant and extremely easy to carry.
This small medical kit is suitable for all sports, Home, Office, Restaurant, schools, Boat, Car, Kitchen, Travel and many more. It also comes with a free first aid guide book.
It contains Different types Bandages, Instant Cold Compress, Emergency Blanket, First Aid Tape Roll, Rain Ponchos, Glow Stick, Compass, Medical Scissors, Antiseptic Towelette, Butterfly Closure Strips, PE Adhesive Plaster, Cotton Tipped Applicators, Sterile Gauze Pad, Alcohol Prep Pad, Sting Relief Pad, Sterile Eye Pad, Abdominal Pad, Moleskin Blister Pad, Non-Adherent Pad, Adhesive Wound Dressing Pad, Disposable Vinyl Gloves, CPR Face Mask, Slim Rescue Howler Whistle, Safety Pins, Metal Tweezers & First Aid Guide.
---
These are top soccer first aid kits on the market. So, if you buy one of our recommended first aid kits, then you will able to tackle any unwanted situation during training or a match. So, keep you prepared.
Check out our following reviews: