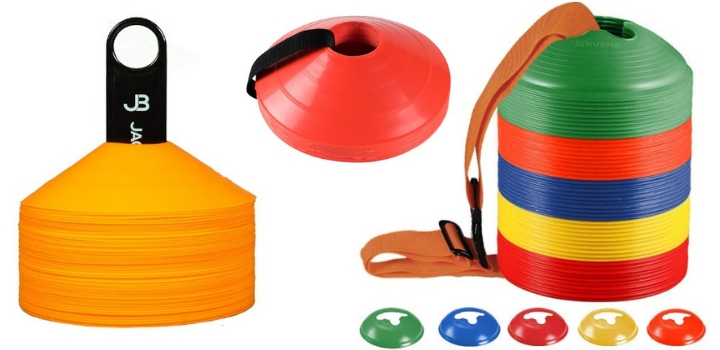 5 Best Training Cones for Soccer & Other Sports
What are the best training cones for soccer on the market? Stay with us you will find the answer soon.
When anyone seriously wants to improve his performance, he needs some essential training equipment to maximize his effort. Training marker cones are the most essential equipment for both fitness and skill development in any sports.
So, soccer cones are a mandatory accessory of soccer training equipment. Every coach needs disc cones during training for skill development. The good news is soccer training cones are cheap. Training marker cones are highly durable and long lasting too. You can use them for fitness training, sports practice, boundary markers, target practice, speed and many more.
So, we choose the top 5 soccer disc cones (set of 50 disc cones) for you. They are not only best but also cheap. Any team or coach can afford these training marker cones.
5 Best Soccer Training Cones
1. Profect Sports pro disc cone(50 packs)
Profect Sports Company bring this set of 50 pro disc cones to make soccer training easier and effective. Profect Sports mini disc cones are 2" tall x 7.25" wide. You will get a disc cone carrying bag, a cone holder and an ebook with this set. These soccer training cones are made with high-quality plastic materials, which make them very cheap, durable, flexible and long lasting. You can use them for many seasons. They are very easy to use, carry and store.
They are premium training marker cones. Though Pro Disc Cones are ideal for soccer training but you can use them in other sports training too. Its color is bright enough. For its high visibility, the marked area is visible from very long distance. It will make your training easy and enjoyable.
They are perfect for target practice, skill development, boundary marking and many more. Profect Sports Disc Cones are available in 5 different colors. They offer an attractive return policy. Most coaches and athletes highly recommend this soccer disc cones.
2. Jagged Box Pro Disc Cones(50 packs)
Jagged Box company built these high-quality and cheap disc cones to make soccer training easy and affordable to players of all ages. They used premium plastic materials in its construction. In the package, you will get 50 orange mini disc cones, one cone holder and a carry bag. They are 2" tall x 7 ⅗" wide. These training marker cones are not only flexible but also highly durable. They can be used in other sports, dog training, bike training and many more.
The Jaggedbox Soccer Cone set is best for sports training. For its bright color, this training marker cones are highly visible. Also, it has UV protection. So, many coaches recommend this jaggedbox soccer cone set. I am sure you will love these soccer disc cones. These cones will fulfill your training demand.
3. KEVENZ Soccer disc Cones(50 packs)
KEVENZ bring this set of 50 soccer training cones to make team practices easy. They use high-quality and environment-friendly plastic materials to make these disc cones. So, these training marker cones are soft, flexible, durable and long-lasting. You can continuously use them season after season. They are thicker than other company's soccer cones. KEVENZ training marker cones are 2.2 inches tall and 6 inches wide.
They use 5 different colors (Orange, Red, Green, Yellow and Blue) to make the set of 50 mini disc cones. You will receive 10 of each color. All colors they used are very bright. So, they are visible from every corner of the field. They come with a nice carrying case, which allow you to store all of them after use.
Buy these soccer training marker cones now! They will keep you happy during training.
4. Kwik Goal Mini Disc Cone(50 packs)
Kwik Goal Mini soccer cones are made with very high-quality plastic materials. So, they are slightly expensive than other soccer training cones. They are very small and light. The dimension of the Kwik Goal cone is only 1 3/8" x 5". So, you don't need too much space to carry and store them. You will get 50 pc training marker cones in each kit.
Also, they are brighter than other cones. These cones are packed with 2 different colors in each set. 25 mini disc cones in each color. This item also comes with an easy to carry cone carrier. They are the best training cones for soccer in 2020.
5. FORZA Marker Cones(50 packs)
FORZA marker cones are exactly what an athlete's need for perfect training. It designed with top training equipment designer and built with best materials. This soccer training cones are the most durable training marker cones ever.
Each mini disc cone is 2 inches tall and 8 inches wide. Also, it's weight is only 1 oz! So, they are easily carriable.
FORZA Marker Cones are available in 5 different colors. In each pack, you will get 50 single, mix or multi-color FORZA training plastic cones. These cheap soccer cones also come with a carrying stand, so that you can easily store them after every use. Best disc cones for practice.
These training marker cones are the best in the market. You can buy and use any set of them for quality training. They are long lasting. So, you can use them for soccer training season after season.
Once you have finished soccer disc cones buying for your training, Check our soccer ankle brace reviews here.