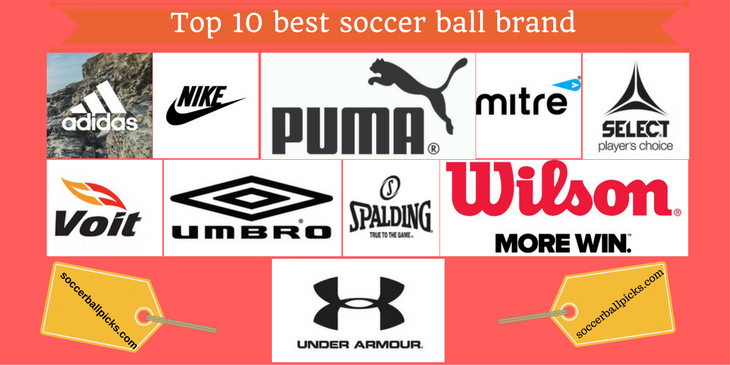 Top 10 best soccer ball brand
If you are looking for a good quality soccer ball, first you have to find out the best soccer ball brand. People love brands because good and trusted brand always provide us high quality products.
Here we choose 10 best soccer ball brands from thousands of soccer ball brands to help you for buying the best soccer ball. To choose the best soccer ball brand for our list, we took help from soccer forum, soccer products review site, soccer blog and professional soccer player. Hope this guide will help you best.
Finding the best soccer ball is important. You don't use a ball only once and you keep on pushing and stepping on it all the time. Your typical soccer ball is not something that you usually handle with care and attention.
So you need to buy something reliable that will not get cut with frequent use. At the same time, you need something that comes in the right size, weight and feel. When the ball is too heavy or too light you will not be able to use it properly.
Moreover, your soccer ball will probably be stored at your house among your other sports gear. You need to make sure that it is made from safe material that will not degenerate quickly or lead to health hazards if it is touched by a pet or a child.
For these reasons, and so many more, people need to find the best soccer balls to buy and use. Soccer balls are assed based on the materials used in manufacturing, the aerodynamics, air pressure retention, water uptake and durability and shape retention. In this article we came up with the list of the best soccer ball brands so that you choose the one that suits your needs and preferences.
List of Top 10 best soccer ball brand

1.
Adidas:
Adidas is probably one of the most famous brands for sports gear. They produce quality sports gear for different athletic needs but their soccer balls are of exceptional quality. For several decades FIFA has considered Adidas to be its official soccer ball brand.
Adidas keeps on improving the balls they provide to the world's most acclaimed soccer players. Like FIFA, Adidas also manufactures quality soccer ball for Olympic game and UEFA Champions League. So we keep Adidas at top of our list.
Another best soccer ball brand. In addition to being the most famous sportswear company in the whole word, Nike also manufactures the best soccer balls. Nike soccer balls are used in the professional leagues of England, Spain, Italy, Brazil and many of the other soccer loving countries.
3. Puma:

Puma was actually founded by Rudolf Dassler in 1948. Rudolf Dassler was Adidas' founder Adlof Dassler's brother. Puma is popular from its birth for manufacturing high quality sportswear and soccer ball. Today they still continue to provide high quality soccer balls that are of superior quality.
Mitre specializes in producing sports gear for only rugby, netball and soccer. This specialization allowed them to focus on providing their customers with the highest quality of soccer balls for more than 200 years now.
Select was founded by a famous Danish goalkeeper back in 1947. Eigil Nielsin knew what it takes to make a good soccer ball, so he put his experience into action by starting his business.
He produced the first soccer balls that came without lacing. So start your soccer journey with this excellent brand. If you buy a select soccer ball, I think you will never go back to any other brand.
Voit goes a way back since its foundation in 1922 in providing the best soccer balls to all soccer fans and professional players. By the end of the 1920, the company introduced the first fully molded rubber soccer ball. They also came with the needle like air retention valves.
They later invented a technology that allowed the balls to be machine wound with sturdy nylon threads over the rubber bladder. This ensured that the soccer balls would be stronger and more consistent. It also made balls cheaper and more available since they can be produced in mass production.
7. Umbro:

This is a sportswear and sports equipment supplier that works in England but today they sell their products in over 90 countries. Ever since the company was founded in 1924, it has been known to produce high quality products.
Their soccer balls are the official ones in many countries like Malawi, Botswana, Canada, Peru and El Salvador.
8. Spalding:

Though the leading American brand is specialized in producing basketballs but they also manufactures and provides high quality soccer balls to professional soccer players.
In fact, due to their great experience since 1876, they have come up with different technologies to ensure that their soccer balls are of great quality.
Wilson is an American company that makes sports gear for badminton, baseball, softball, American football, racket, golf, volleyball in addition to soccer. It was founded in 1913 and this makes it one of the oldest companies in the world.
Over the years, Wilson has provided footballers with great balls and they still continue to do so.
Although the company produces sportswear and casual wear, it is also known for producing high quality soccer balls that makes it one of the best soccer balls producers in the whole world.
It sponsors many football teams across the world including the Sao Paolo team and the Baltimore Bohemians team.
---