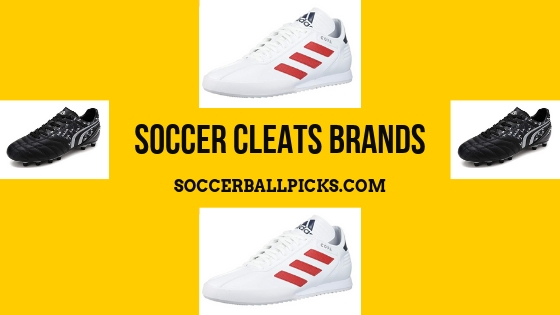 Top 10 Best Soccer Cleats Brands
We all want the best soccer cleats on our feet to perform like a superstar. That's why we look for good soccer cleats brands. As we all know top brands like Adidas, Nike, Puma etc. always produce high-quality shoes for us. The only problem is their cleats are slightly expensive. I personally don't want to buy 6 pairs of soccer shoes in a year. So, I always love to invest in a big brand's shoes because of their long-lasting quality. I used one pair Adidas soccer shoe for more than 3 years!
So, I make a list of 10 best soccer cleats brands for you which help you to make a wise decision.
List of Top Soccer Cleats Brands of 2020
1. Adidas
Adidas is a German-based multinational corporation who produces high-quality soccer cleats from 1924. It is the largest sports shoe manufacturer in the world. World's most of the soccer team and players use Adidas Soccer Cleats. Adidas use the latest technology and high-quality materials to produce the best soccer cleats to fulfill professional demands. They are continuously investing a lot of money to develop sports shoes. Adidas soccer cleats are slightly expensive. There slogan is "Impossible is Nothing".
2. Nike
Nike is an American multinational corporation. Nike started their sportswear and apparel business on January 25, 1964. Its former name was Blue Ribbon Sports. Nike is the 2nd leading soccer cleat manufacturer in the world. Currently, the company is engaged in developing a wide range of sports equipment. Nike is popular for their innovative design and high-performance products. Recently they worked with Fit Frame technology for a perfect fit, Heel crash-pad for better shock absorption, air cushioned sole for better flexibility and impact reduction. They sponsor many local and international teams and high-profile athletes around the glove. Their products are also expensive like Adidas. Their slogan is "Just do it".
3. Puma
Puma SE is familiar as Puma. Puma is the world's leading soccer cleats brand. It is another German multinational company that produces both athletic and casual footwear. Puma is the third biggest high-quality sportswear producer in the world and they are continuously working in the development of sports footwear from its very beginning of the business. Their soccer shoes are also expensive like Adidas and Nike. Puma is the only top sports brand that has no slogan.
4. Under Armour
Under Armour Inc. is well known as Under Armour. Under Armour is a leading sportswear manufacturer of USA. Under Armour is a younger brand than other leading sports giant. Though the company was founded in 1996, they already gained the 4th position in USA sportswear market. They are famous for their innovative and Eco-friendly products. They produced low priced sports equipment. They reach every family with low-priced quality products. Their slogan is 'I will'.
5. Vizari
Vizari Sport USA is the best soccer cleat brand because they only produce soccer equipment. So, they gain authority in this industry. The company was founded in 1998 in California. Currently, they are working with Soccer cleat, soccer ball, Shinguard, Gloves, Soccer Bags, Soccer Training Equipment, Jerseys and Pants. They produce the highest quality soccer cleats with very reasonable price. They decorate their factory by all latest technology and equipment.
6. Diadora
Diadora is a leading sportswear producer brand. It founded in 1948 in Italy. The company is growing it's business worldwide. Though Diadora started the business by producing climbing boots they now producing soccer, rugby, tennis, cycling, running and other athletic items. Diadora is the 3rd leading soccer manufacturing brand in the USA.They produce both expensive and inexpensive soccer cleats. Research and creativity help them to grow fast.
7. Dream Pairs
DREAM PAIRS is not a famous brand. The company is founded in 2013 by Top Glory Trading Group. They also have 3 sub-brands. They are TOETOS, BRUNO MARC and arctiv8. They have been producing high-quality footware at the lowest price. They have a variety of soccer shoes for athletes of different age. They are popular for their affordable and highest quality shoes.
8. Wilson
Wilson Sporting Goods Company is familiar as Wilson. This is a leading American sports equipment manufacturer. The company was established in 1913 by Ashland Manufacturing Company. Wilson is a famous sports brand. It is a subsidiary of Amer Sports Oyj. They are producing more advanced sports shoe in recent years to compete with big brands like Adidas, Nike and others. They are popular for their innovative design and quality products.
9. Mitre
Mitre Sports International is the oldest sportswear and equipment manufacturer in the world. This British company is familiar as 'Mitre'. Mitre Sports International was established in 1817 by Benjamin Crook in Huddersfield, England. It is a subsidiary of Pentland Group. Now the company is producing only Soccer (Football), Netball and Rugby sports products. Currently, we are using many technologies in sports which are invented by Mitre.
10. Lotto
The Lotto Sport Italia is a leading sportswear manufacturer in the world. The company was established in 1973 in Italy by the Caberlotto family. At now Lotto is producing best quality sportswear and distributes them in more than 110 countries. They are producing premium soccer shoes to fulfil professional's demand. Lotto is a trusted soccer cleats brand. To ensure athlete's maximum performance, Lotto continuously researching and developing products quality and performance with technological innovation.
I pick these 10 brands from thousands of soccer cleats brands. Now it's your turn to choose the best brand from 10 brands. Which one do you choose? Let me know at the comment section below.
​